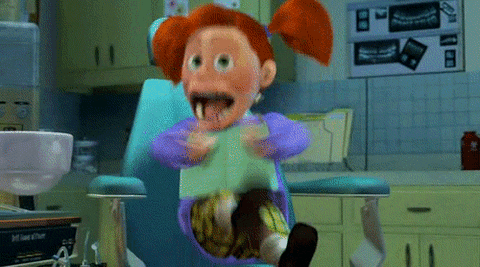 Ginger, loud, and ever-so-slightly unhinged, the character of Darla from Disney Pixar's Finding Nemo is a fine choice of Halloween costume for redheads, both big and small.
She may be small and cute-looking, but Darla packs an almost-literal punch with her love of sea-life (which definitely comes across the wrong way in the film). Some say she's evil, but we think she's just misunderstood.
Darla also happens to have the coolest outfit that is also totally easy to achieve and comfy to wear (which, let's face it, is the most important reasons why it's a great costume).
Darla's 'Rock n Roll Girl' sweatshirt motif takes a bit of DIY to get right, but is still really easy. Print this design onto t-shirt transfer paper (or just regular paper), cut out and attach accordingly to reveal your awesome new sweatshirt!
Team these with long white socks and black plimsoll shoes, and you've nailed it.
Hair
In bunches, of course! You've got the red hair sorted, so give it a heavy side parting, and secure the bunches high up on your head with hair bands. If you have particularly long hair, you may want to tuck the ends in to give the illusion of shorter hair.
Make-up
Keep this completely minimal – the 'No Make-Up' make-up look is key here (but keep those eyebrows looking gingerful!). Having as many freckles on show is the aim of the game (isn't it always?), so if you'd like to emphasise your natural freckles, or create new ones, use a brown eye or brow pencil to lightly draw on your skin.
And to finish it off…
You're not Darla without her wire braces. The simplest way to create these is with kitchen foil, rolling into a really thin piece that is then long enough to tuck the ends behind your ears. Shape so they're in position in front of your mouth and you're done.
By Emma