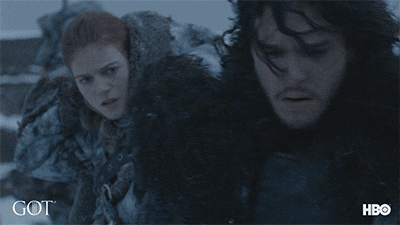 One of the best things about Halloween is pretending to be someone else for the night. Particularly when it's someone totally kick-ass, like ginger Ygritte from Game of Thrones!
Any girl that threatens to cut her boyfriend's bits off and wear them round her neck is pretty kick-ass in our humble opinion, especially if they have red hair.
So how do you achieve this Halloween costume for redheads without resorting to such gruesome violence?
The key thing is that Ygritte lives north of THE WALL, where it is absolutely, blue-toes-and-frozen-fingers kind of freezing. So you'll need to layer up, and considering the increasingly chilly weather that's coming, that might not be a bad thing!
So get a nice comfy beige onesie or leggings and long sleeved t-shirt, but the older and tattier the clothing, the better. You need to look like you've been wearing this outfit for years (there are no walk-in wardrobes north of the wall)!
Next, you need to layer on furs (fake, OBVS), as well as grotty old leather items. So get down the charity shop or raid your Mum's wardrobe for the most moth-eaten fur you can find.
But you must ensure you have a hood – this is a massive old statement hood – to protect against the winds of the north!
On top of these layers, you will need to add on bits of hessian rope and useful items you can use for fighting, riding and battling at Castle Black.
So now that you have a kick-ass outfit, you'll need to carry a kick-ass bow and arrow to complete your Ygritte Halloween costume. I doubt that you'll get into many pubs with a real one, so you'll have to do with a kids' version.
Hair
You'll need to get your hair out of your face, so pull a few sections off your face and plait them together and secure at the back. This will also help to keep your hair out of the way of your archery practice.
And to finish off the look…
To really channel the 'I-live-in-the-wild' look, roll around in the garden so you've got a bit of mud in random places on your costume. And scrub some on your face too, for extra measure.
And the main catchphrase you need to convince people that you really are Ygritte re-incarnated is to repeat the phrase, "You know nothing' in an entirely dour northern accent.
Oh, and find yourself a dreamy Jon Snow lookalike and you're ready!
By Bec
Click here for all Halloween Costume Ideas for Redheads
Comments