He's tough, he's funny, he's fiery – he's Yosemite Sam! With a face full of gingerness, this short-tempered archenemy of Bugs Bunny packs a punchy personality of feistiness, making him a creative choice for a Halloween costumes for redheads.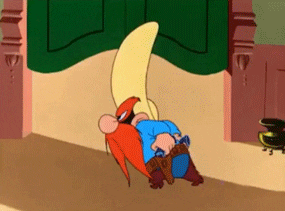 Here's how to get the Yosemite Sam look (make sure you've got the attitude to match!)…
Coloured t-shirt (either red or blue)
Jeans
Daisy Street at ASOS: £10, $16
Ginger beard
If you don't have enough (or any) ginger facial hair, get yourself a beard and moustache to get the proper Yosemite Sam look, like this one from Amazon.
Cowboy hat
Black boots
And to finish it off…
You'll want a yellow neckerchief, a your finest (and largest) cowboy hat, black boots and thick belt. Of course, a couple of toy guns could work well to complete outfit, too.
…That's all folks!
By Emma
---
Enhance and care for red hair using Gingerful
Created for redheads, by redheads.