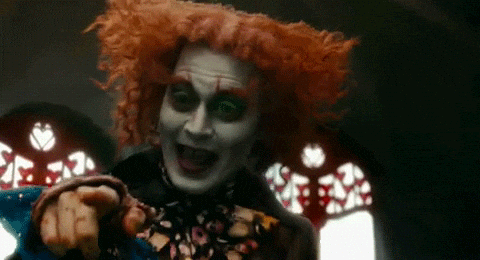 He's mad, he's hatty, he's ginger. He's Alice in Wonderland's Mad Hatter, of course! A veritable treat of a Halloween costume for redheads.
Possibly one of the most creative, fun and outrageous fancy dress ideas, Tim Burton's Mad Hatter (Johnny Depp) is bright and whacky, and surprisingly simple to achieve. You've already got the red hair sorted (well done you), so it's just the mismatched socks, top hat, make-up, and a few other items to fully transform yourself into the Mad Hatter.
Here's how to create the look.
And to finish it off…
…all is left is a top hat wrapped in brightly coloured ribbon and glued with twigs, feathers – anything you can find.
Add a dash of madness and you're ready to be the Mad Hatter.
Hair
You want your red hair to be as curly and as wild as possible. After washing, use a curling mousse to help give it volume. When around 50% dry, spritz all over with salt spray and use your fingers to twist one-inch sections of your hair all over.
Air dry as much as possible so that the curls set, and when fully dry, use curling tongs or straighteners to curl further if needed. Turn your head upside down and shake to give it more volume before putting on your top hat. Use some backcombing for extra volume if you wish.
Make-up
The Mad Hatter's make-up is the most iconic part of his look. Try out this YouTube tutorial to get t it right.
(White base optional of course, if you're already quite pale!)