Every Halloween, I look forward to watching my favourite movie, Hocus Pocus!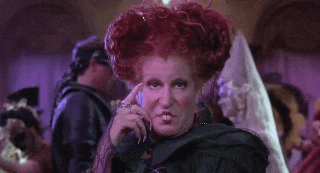 Since childhood I've loved the three Sanderson sisters, and of course particularly identified with the eldest sister Winifred because of her wildly styled ginger hair. She is everything a ginger could be: feisty, fun, spunky, and of course, magical!
With 31st October around the corner and the Sanderson sisters showing up again in Disney Parks, what better Halloween costume can a redhead choose than this cult classic?
Here's our step-by-step guide to dressing up as Winifred Sanderson this Halloween…
Depending on your price budget, either of these dresses are perfect for the main part of the outfit and the green shades undoubtably complement any redhead!
This corset is the deep purple we're looking for, and adds a bit of fun youthfulness to the costume.
Essential for any witch's outfit (and really cool to swoop around in), this cape is a must-have this Halloween when dressing as Winifred. Plus, it'll keep you warm and cosy.
Forever 21: Necklace £5, Earrings £3.50
Winifred loves her bling-y gold jewellery so make sure you spice up her outfit with some statement pieces.
Pointy shoes are a must when being a witch! Grab these cute ones that you can wear even after the Halloween fun is done and dusted.
Hair
The face is the most distinct part of dressing up as Winifred Sanderson. Tease your ginger hair, pull it into two ponytails and twist them under and secure with bobby pins.
If you aren't lucky enough to have ginger hair, or you prefer a fun mystical look, you can always grab a fun wig.
Make-Up
For make-up, do lipstick on just the middle part of your lips, and team with dark eyeshadow and eyelashes. That way you'll certainly put a spell on them!
And to finish it off…
Why not complete the whole ensemble with Winifred's best friend – her book of spells?
"BOOOOOOKKKK!!!"
By Molly