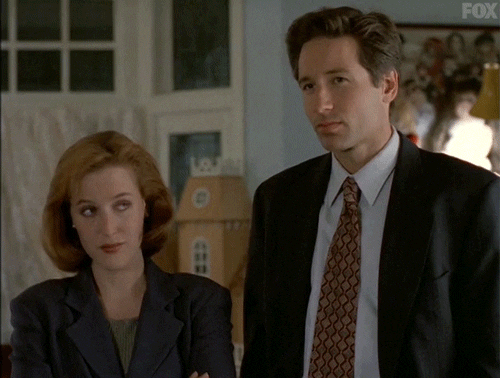 Agent Dana Scully from The X-Files has been my ginger idol since childhood. Saving Mulder, being a doctor, performing autopsies; there was nothing that Scully couldn't do.
She's the ultimate red-haired badass, so she's my prime choice of Halloween costume!
And the cult classic will soon be back on our TV screens, as The X-Files returns for a six-part miniseries in January 2016 on Fox in the US, and UK release details to be confirmed.
Want to know the best part about dressing up as redhead Scully for Halloween? Recreating Scully's outfit is so simple, and yet it still stands out above the rest.
A blazer with trousers are the essential parts of FBI Agent Dana Scully's character. If the shoulders aren't padded, shove some tissue in to give it the Nineties look.
A crisp white blouse with a collar will be most notable under your blazer and shows that you mean business.
A gold cross was given to Scully on her 15th birthday by her mother and holds a lot of symbolism of her faith throughout the series.
As a FBI agent, it's essential to have a badge to get on crime scenes and into places you normally couldn't – though obviously this is a fake!
Hair
Last, but certainly not least, is the all-important identifier that you are Dana Scully: your beautiful ginger hair. If you are lacking in the ginger gene, fear not! Get a wig that looks just like Scully's 'do.
And to finish it off…
Perhaps a replica gun and handcuffs to complete the FBI effect? All in all, Scully is a favourite to dress up as – most people will recognise you and you can geek out together as you anxiously await the new series to be released.
By Molly
---
Enhance and care for red hair using Gingerful
Created for redheads, by redheads.