Halloween Costumes For Gingers: Blossom, Powerpuff Girls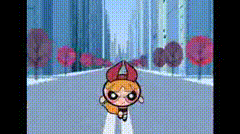 Who is our favourite Powerpuff Girl here at Ginger Parrot? And who, of all the Powerpuff Girls, would make a brilliant Halloween costume for redheads?
Why, Blossom, of course!
With her waist-length orange hair and her role as leader amongst the animated crime-fighting trio, you can't not love her!
Along with being the most intelligent of her sisters, Blossom proves that gingers can be calm and collected too (when we want to be)!
Here are our tips on creating the best Halloween costume to do Blossom (and fellow gingers) proud!
Dress
Two-Piece Option
Belt
Shoes
Bow
Hair
1. Blow-dry hair upside down to get voluminous locks.
2. Pull hair into a ponytail at the back of your head, a few centimetres above your ears.
3. Fix with hairspray and then fasten your big bow above the hair tie.
Make-Up
Finish off the look with LOTS of pink eye shadow, black eyeliner, (maybe some false lashes to get those large, cartoon eyes) and some lip balm or clear gloss.
Top Tip: Complete the full Powerpuff Girls set with two girlfriends, one of the blonde and brunette variety!
By Charlotte